Well I have finally gotten caught up on the majority of the house work around here. And sure enough a bit tied up in knots too. My knees ache as does my neck. So want a nap but almost time for Dear Hubby to come home. Also the heat of the day has made my room just at nearly tolerable. I so know I am at home and not doing my 'staycation.
Image by cthoyes via Flickr
You see I was in heaven. A nice air conditioned house at a steady 75 degrees. A kitchen a chef would feel right at home in. And oh the hot tub! No I did not need the heat one with our Texas sun. In the evening it would be about 85 degrees in the tub. Turn on the bubble jets and massage jets and soak the pain of the day away. Ohhhhhh! Thank goodness our tub was not this crowded!
And better yet, I had some massage oil with me from
EdenFantasys
. This weekend after a great time with 6 of us in the hot tub, Dear Hubby treated me to a back and foot rub. It was total indulgence to say the least. I am not sure what was better, kneading my tense neck or massaging my lil tootsies. Now that is what I want in a 'staycation. When was the last time you had a massage from your better half? Do you use scented oils? I love those deep earthy scents the most. I have always wanted to try the massage oil candles but still a lil nervous. I like the idea of the Dark Vanilla scent with a massager included like this
Knead Me Massage Set
. It is a Jimmyjane's product with a built in pour spout. Of course I could add in
The Book of Massage
and make this a great gift to give Dear Hubby on our anniversary that is next month. Great idea, glad I thought of it. Seems it would be a win-win situation for both of us.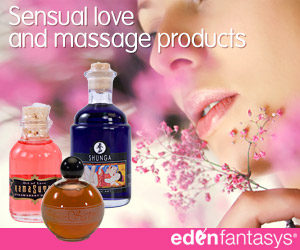 I do want to thank EdenFantasys for helping me out. They have sponsored many of my post. I think I might use my credits that are built up so I can order this for our anniversary gift.