I told you a few weeks ago that I was hoping to spice up my love life a lil. But that my body is holding me back. I am always so tired with the weight I have and my aching joints. So it is time to get serious about doing something about this....or lose my love life.....who wants that? NOT ME!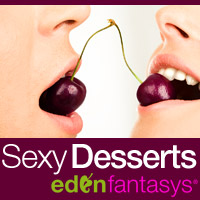 So I have been poking around to see what would be good to do. Well, one of the things is to learn how to cook better lower calorie less fat dishes. But if they are not tasty no one eats them. I found out that there is a
Eden Cooks community
that is meeting this Thursday, 14th online at 8 p.m. Eastern time. And you can not only find out how to fix Mediterranean fish dish that is easily converted to a pasta dish too. We have all heard how Mediterranean food is better for us. And gosh it is sexy food too, well in my opinion. A $25 gift card will be awarded during the meeting for the winner of a contest where you can guess the lesser known kitchen implement from a series of photos that will be posted. And another will be given to the winner of a trivia contest. Now this is something I never thought I would find at
EdenFantasys
, did you?
I think I am also going to look at
The Dieter's Guide To Weight Loss Before, During, and After Sex
. Hey that sounds like the fun plan! Don't it. HA HA! Not only do I learn how many calories can be burned up while I am burning up, but some fun ideas on how to get started. I found out that eating in bed is encouraged. I think I would take it up with Dear Hubby if we were drinking some wine and eating sushi! That would be perfect in my book. And I know that a lil afternoon 'nooner' instead of lunch seems like a great way to burn a few calories too. If nothing else, Dear Hubby and I will get to laugh and giggle while reading through this book. And that is a few calories within itself too.
So, how is going with you. Mid-life and a lil too much in the middle too? Not really up to snuff on doing the sit ups but wishing there were more push-ups going on? I know that I am looking at ways to get my love life rev'ed up again. How are you doing that at your abode? Are you getting a lil help from an online community? If not, check out the communities on EdenFantasys.
Now I will tell you that I was lucky to have this book sent to me for review. And better still EdenFantasys is sponsoring this post. Gosh with these two on my side I know things will be getting better real soon. WINK WINK!