Uncovering Me
was my wonderful swap partner for the latest of
Mamarazzi's swaps.
And I was thrilled to receive my wonderful
Red, White and Blue
box this last week.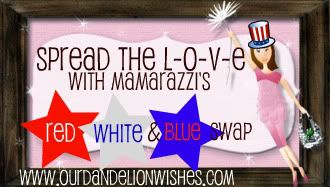 I have to tell you that you also want to join in on the 100th birthday at
Uncovering Me
! She has a
Trader Joe's
gift box and if it is as enjoyable as my swap box then Yipee! She was kind enough to share a Trade Joes gift box with me. As I have never had shopped or heard of Trader Joes you can imagine my surprise when I found all the great DIET goodies she sent me. THANK YOU so much for paying attention to my sliming down. It is greatly appreciated!
I was givine some great snack bars that will keep me going yet not add on the pounds!
OMG! The 100 calorie chocolate bars are so creamy! I have enjoyed getting to have such a great treat again. I adore chocolate and you hit the nail on the head here.
White Chocolate and satisfying fullness at the same time
What a great combo.
Kashi
! Yippee!
I am eating Kashi with yogurt in the mornings already.
So now I have an afternoon snack that will be both good for me and shares that with the rest of the world. (Kashi is a great GREEN company).
This has to be my all time favorite thing now.
Dried Hibiscus flowers to EAT!
I adore the flavor of these sweet dried treats.
It is like a dried mango almost.
And it tickles me PINK to be able to eat a flower.
Such a girly thing.

Uncovering Me
also sent me a fantastic
4th of July
hand towel to put out in my bathroom.
And luggage tags for my run away trip with Dear Hubby this next week.
And more goodies like dried fruit bars, fat free and sugar free suckers and more yummies.
I guess she heard me when I said I was so hungry I wanted to eat the world.
Well thanks for all of the great snacks to satisfy me with.
They are appreciated more than you know!
And
Mamarazzi
you did a great job hosting another swap.
I love them!