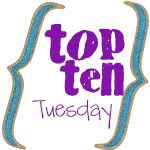 Today I am joining the
RHOK
as they pop over to
OhAmanda
for the Top Ten Tuesday. This week is the top 10 things to make for dinner. I love doing home cooking for my family so this is an easy peasy one for me. I polled the family to see what that choose as their favorites. And here is our list.
1. Last night was a favorite and a quick easy meal. We have
waffle sandwiches
. Simple....waffle iron and a ham (or turkey or roast beef or...you get the idea) and cheese sandwich placed inside. Close the hot iron and in just minutes you have a yummy grilled sandwich. College Girl swears that it is the lil squares that make them so yummy.
2. My all time quick and easy dinner is actually a breakfast thing. And that is simple
breakfast rice
. I know may not be that nutritious but we love it. Cooked white rice drained. Add in butter, sugar and cinnamon to taste.
3. Another favorite here is
Crock Pot Bar-B-Que.
Again...simple. Crock pot, rump roast, bottle of bar-b-que sauce. Combine and cook on low all day. That is it. End of day at dinner time. Remove lid and you have the juiciest beef bar-b-que ever. And you did not have to sweat one iota for it.
4. College Girl makes a vegetarian version of
matzo ball soup
that we are all in love with. She uses Vegetable Broth instead of Chicken. Makes the matzo balls and cooks them in the veggie broth. a
MATZO BALLS:
1 c. matzo meal (unsalted)
4 eggs
1/2 c. water
1/3 c. melted butter
1 tsp. salt
Dash of pepper
Mix eggs, water, salt, pepper and butter in medium sized mixing bowl. Place matzo meal in separate bowl. When liquid batter is thoroughly mixed, add gradually into matzo meal, constantly stirring. Stir matzo dough until all lumps are removed. (Batter will be the consistency of cake batter just slightly thicker.) Set aside in refrigerator for 1 hour for batter to thicken.When batter has been chilled, boil 1 1/2 quarts of vegetable soup. Add 1 tablespoon salt. Roll matzo dough into small balls and drop into boiling broth, one at a time. Cook for 20 minutes.
5. Dear Hubby surprised me with a wonderful meal of
Crab Stuffed Chicken breast.
Now it is in my top 10 of I wanna eat that. It is worth the time and effort to make for a special meal.
6. College Girl does up our
Salmon Patties
. She is the queen there. Simple and easy. Patties from canned salmon mixed with salt, pepper, crackers and eggs. Her secret is that she fries them up in a 1/2 veggie oil and 1/2 butter mixture.
7. We all love
Chicken n' Dumplings.
The best is by Poppa (CG's birth dad). So we beg him to come over and cook this one for our combined families. Of course that means dinner with Princess Emma so we are all for that too. Time with the two families is something that makes us very happy.
8. I do a winter stew called
Left Over Stew
. What that is.....a big bowl with a lid stays in the freezer. All of the meat, veggie and starch left overs then get placed in the bowl. Once it is full we defrost and add to broth and heat. Simple and dinner is served. Since we save our broth from boiling chicken for meals, this is a pretty easy meal.
9. Every one here says that my
steaks
are the best. I don't know why? I choose the cheapest steaks I can find. (Budget) Then I place them in a container with a lid. Pour CHEAP red wine on them. Place it in the fridge for the day to marinate. That evening I heat a pan nice n hot. Place in a couple pats of butter. Salt n' Pepper the pan (yes the hot pan) and then lay in the steaks. Let them cook on one side and turn them over. Only turn them once. A hot pan sears in the juices. And by not turning them over time and time again, I do not lose any extra juice too.
10. Our last choice is my
Bar-B-Que Meat Loaf.
My ex would put bar-b-que sauce on everything. So I decided to add it to my meat loaf. It was a hit and is now the only version we make here. Again easy. Ground beef, eggs, crackers, chopped onion, chopped bell pepper and bar-b-que sauce. Mix and bake.