Well the weekend is coming up and it is a holiday and the grandbabes will be here and college girl has the weekend off from play practice and the step kids are coming too and we are hiding eggs and ...... whoa! 'Fraid of how many ands there are going to be. But I am excited as can be.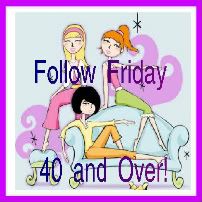 So I think I will put this all up as a
Friday Fragments like Half Past Kissin Time
does. As well as hopping on board with
Never Growing Old with Follow Friday
. So folks, here we go............
It is Easter weekend! Whooop. Lots of family and that means food. So I am looking for some easy to make meals. That way I have time to play with the grandbabes. I have the 4 Ingredients Cookbook
www.4ingredients.us
to prowl through today. (BTW there is even a iTunes app for this!) I have two small hams in the freezer to play with. I could do a roast pork by rubbing them with olive oil and sea salt. Then just roast it for 20 minutes at 425. Turn it down to 350 for the next hour. Oh and Boston Baked Beans would work too. 2 cups dried beans with a small ham hock, dice a small onion. Bring my water to a boil then cook for 45 minutes. I then add in 1/2 cup of molassas, pour all into a baking dish then move to a preheated oven at 300. Cook for 4 hoursThat would be easy to do and it can cook while I visit. I can also do Banana Lassi for the kiddos with breakfast too. Just blend a banana, cup of yogurt, 1/2 cup of milk and 1 tblsp of sugar. Oh and by the way I have to share with you the Yoplait Delights coupon that you can get
here
. It is good til the end of this month. Go grab it! And the Yoplait Greek yogurt is really really good. Loved the flavor and the extra protein can only help. You can hear about this at this
webcast
. Put in the password Yoplait.
Flourless Chocolate Cake
Decadent for special occasions
• 4 eggs
• 1 stick + 6 tblsp butter
•9 ozs dark chocolate
• 1 cup sugar
Preheat oven 180C. Separate eggs, add ½ the sugar to the yolks and beat well with a mixer. Beat egg whites until fluffy then add remaining sugar, gradually beating until stiff peaks form. Melt butter and chocolate over hot water stirring regularly. Pour into egg yolk mixture and fold. Once combined fold in egg whites. Line a cake tin with greaseproof paper and pour in mixture. Bake in a 22cm cake tin for 40 minutes in the lower third of your oven.
Note: This cake will collapse and the top will flake, as it has no flour to sustain the rise but it is gorgeous and a favorite for all.
Optional: Can be served warm or cold and is delicious with fresh cream
Hey what traditions do you have for the Easter Egg hunt? I am finding that combining my family with my husbands family we of course do things a lil different. And now we are pulling in the Other Mother's traditions too. Prize eggs are something we all agree with. But what to do for the prize. I knew it was some change. Others say candy of some sort. Growing up it was a sugar egg that you could peek into. Dear Hubby's family has gifts and toys. We are going to be having our hunt on Saturday so the kiddos can return home for Sunday with the other grandfolks. I am thinking of adding in some great books for prizes. I have two great ones by Pat Palmer. You may well remember
The Mouse, The Monster and Me
. It has been around for years with over 500,000 copies sold. That should tell you something. I love that it teaches assertiveness and shows how not to be bullied. This so helps with peer pressure. I am sure it would really reach home with my granddaugter and school now. I also have
Liking Myself by Pat Palmer
too. This has the same messages in a different voice that would reach my younger grandson. So I could help them both on their own levels. Now that is a gift of itself.
Tyndale House Publishers Mosaic NLT Holy Bible
. Encounter Christ on every continent and in every century of Christian History. A new genre of Bible—a weekly meditation Bible—Holy Bible: Mosaic is an invitation to experience Christ both in His word and in the responses of his people. Each week, as you reflect on guided Scripture readings aligned with the church seasons, you will receive a wealth of insight from historical and contemporary writings. Full-color artwork will engage the soul; quotes, hymns, prayers, and poems enhance the rich devotional experience. Also includes a Dictionary/Concordance, NLT word study system with Hebrew/ Greek dictionary. A beautiful layout of art and devotional content, and an online community and content will extend the experience. This is my Easter gift to one of my wonderful friends here. Just leave me a comment and share an Easter tradition with us. Is it Holy Sunday? Is it Passover? Is it the Egg Hunt? What does Easter pull at your heart with.