Today for me 30 minutes for me.....I hung out with some amazing ladies. We chatted. Laughed. Told some tall tales. And even had a bite of lunch. It was wonderful to smile so much. To have these women to pat me on the back once in a while. It was better that we were everywhere yet all in the same place. Today my 30 minutes was spent on Twitter.....tweeting away.
What did I say? Well here are a few things....
@
Crissy
The birds are singing...sun is bright & cheerful....soft wind in the air. And your face is smiling here on Twitter.
@
superkeely
@
mommyswishlist
Lunch finally. Rice sauteed in butter, basil pesto & sour cream topped with grilled chicken. Diet Coke too!
@
kyrstind
I have to do the same so we can get College Girls FASFA done too. Oh the head ache.
@
thetameone
Oh that is great to hear...I would hate you not being you or having to talk to a new you that doesn't really know you at all.
@
CaptainDumbass
As long as it does not smell like you have been eating zombies...my DH was belching them last week. ICK
And I said a few things too....
I have a crazed dog. Stands @ the edge of tile floor & whines. Fearful of stepping on the tile. But she is coming off another tiled floor.
How do you kill stickers? Darn grass burrs are resistant to everything. Looking at a match & gasoline next!
Almost noon....have not had a thing to eat today...or drink come to think of it. Wonder why?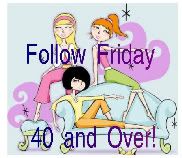 Wanna have some fun too? If so join us older ladies over at Follow Friday 40 & Over with Never Growing Old as the hostess! And meet
la bella vita
the blogger guest extraordinaire.