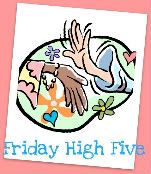 This is my first time to join in with Angela from Angela's Adventures for her Friday High Five! The premise is simple pick 5 things, places, pictures, funny, serious etc...make a list...5 things
Sounded fun so thought I would join in. Thanks Angela!
My five picks are in honor of October Breast Cancer Awareness.
So
LADIES
do not put it off any longer.....get you
MAMMOGRAM
this month.
And Donna this post is in your honor!

As a P.S. from Skyler's Dad here is a great fun reminder.